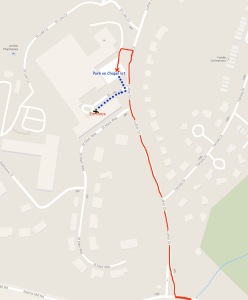 The map above shows the Carroll Lutheran Village complex. The club meeting room is in the Hallway/Links area shown in red on the drawing. Parking is available at the Krug Chapel/Auditorium lot or at the front of the building at the main entrance. Please do not park in the numbered spaces. These are reserved for CLV residents.
Directions to Carroll Lutheran Village   300 St. Luke Circle,  Westminster, MD 21158 :
From either direction on Rt. 140, head south on Rt. 31;
Drive 2.8 miles.
Turn right, onto Old New Winsor Pike, drive 0.3 miles.
Turn right, onto Luther Drive; this is the entrance to Carroll
Lutheran Village. Proceed up the hill.
Club Members should make the third left into the chapel
parking lot and then walk around to the right, down to the
meeting room.
The Activities Room is 201, across from parking spaces 27 & 28 and the chapel.
Meetings start at 0730pm, on the third Monday of the month.
Thank You and welcome to the Carroll County Camera Club.
Guest speakers will make the second left into Lot "F"  Resident Parking only ( Emergency "C" access area) and drive to the end of the road. Circle
around,  park along the yellow curb,  just after the white portico.